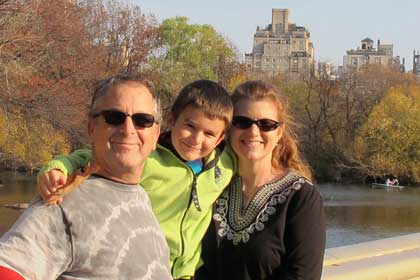 ABOUT
Ann and Steven spent 20 years living in Los Angeles, working in the Motion Picture industry, then in 2006, the family returned to Ann's roots, Kansas, in order to raise their son Sam among a very healthy helping of relatives and old friends while starting their own business.
The idea behind this venture is simple. For years, Ann has art-directed photo shoots of movies stars all around the globe. And Steven has been the creative marketing director behind countless box-office smashes. They have worked with the world's top photographers and filmmakers to create the looks behind memorable, award-winning advertising campaigns.
Eventually Ann and Steven asked themselves: Why not combine these talents with their love for photography? After all, with all their advertising, marketing, film and photographic experience, the two are experts in bringing out the best in people. Drawing upon these talents, this duo brings to the table what few photographers possess. Whether photographing your family, Senior class portrait, local sporting event, family reunion, or creating corporate identity images...you name it—the photographers are prepared to reach into their colorful movie industry experience to realize any look, any style at any location.
Steven Hertzog is a graduate of Emerson College and the Museum School of Fine Arts in Boston with Fine Arts Degrees in both Photography and Film. In Los Angeles, he built an illustrious career as an editor, producer and creative director working on A-List films such as WHAT LIES BENEATH, CASTAWAY, and Steven Spielberg's THE TERMINAL for Dreamworks, 20th Century Fox, Sony Pictures, Warner Bros, Universal, Paramount and MGM Studios.
Ann Frame Hertzog is a graduate of Kansas University where she maintains a close relationship and is a active member of the KU Alumni Association. For over five years, Ann was the Vice President of Motion Picture Advertising at Universal Pictures where she oversaw the creation of campaigns from AMERICAN PIE and BABE to THE LOST WORLD and THE MUMMY. Ann was also highly successful as Senior Creative Director for prestigious motion picture advertising agencies including Seiniger Advertising, Aspect Ratio and New Wave Entertainment and a member of the Board of Directors for Woman in Film.
Together, they are award winning creative directors in print and audio visual marketing and have been honored for their work at these prestigious award ceremonies: The Key Arts Awards, The Golden Trailers and Television Arts and Science Awards.